Dragon Boat Craft - Making and Racing Vietnamese Dragonboat Models
Here is a fun craft to make - a Vietnamese Dragon Boat! Directions are provided in this article.
In the past, Hands Around the World culture camp made and raced models of Vietnamese dragon boats. The older campers loved making the boats and the younger campers loved watching the older ones race their models. The races were very noisy as everyone cheered for their favorite boat!
Prior to actually making this craft, there was discussion about how, in Vietnam, boat racing is a national sport and has become a traditional way to celebrate Tet Nguyen Dan, the Vietnamese New Year. We had pictures of dragon boats and of the actual races that took place in various areas of Vietnam. Then the older campers made their boats. Later in the camp week, we held boat races for all to attend!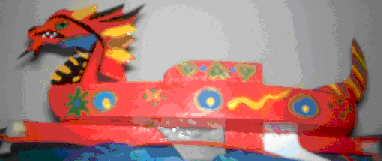 Dragonboat Construction and Dragonboat Races
Dragon Boat Craft Assemply Time:
Total time 5 hours and 50 minutes. (1 hour and 50 minutes of actual assembly time and 4 hours of drying time.) There are four assembly sessions with an hour after each session to allow paint/glue to dry. First session is 45 minutes and includes discussion about dragon boats, second session is 20 minutes, third session is 30 minutes and fourth session is 15 minutes. (Please note: One more session is needed for the actual race or another 10 minutes session is needed to show how to attach the propeller assembly so they can race the boat themselves at home).
Dragon Boat Craft Organizational Tips:
Always have enought materials and kits for at least two extra campers.
Place all the materials for this craft in a box with the craft name on the outside. You can then bring the box to camp and know where everything is.
Make Your Dragon Boat - Craft Materials and Instructions