Vietnamese Holidays and Celebrations
Come celebrate Vietnamese Holidays with these articles, photographs, crafts and resources.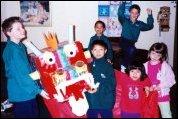 The most important holiday celebrated in Vietnam, and indeed by Vietnamese people worldwide, is Tet, the Vietnamese New Year. Tet is commonly described as Christmas, Thanksgiving and your birthday all celebrated at once. The second most celebrated Vietnamese holiday is the Mid-Autumn Festival. This celebration honors the harvest time and family. There are many other Vietnamese holidays, religious and non-religious, wide-spread and local, influenced by Chinese culture or unique to Vietnam. A great way to celebrate Tet is to attend a Tet festival sponsored by your local vietnamese American community. Or you can incorporate parts of Tet into your family traditions. Many families celebrate these holidays with their local adoption or Families with Children Adopted from Vietnam group, either with their local Vietnamese community organizations or independently.
To learn more about Tet (Vietnamese New Year) and Tet Trung Thu (Mid-Autumn Festival), visit these sections for articles and pictures:
Tet Nguyen Dan - The Vietnamese New Year
Learn about the traditions and experience the fun of Tet with these photographs, crafts and stories.
Tet Trung Thu - The Mid-Autumn Festival
The mid autumn festival, Tet Trung Thu, is also celebrated by many adoptive families. Read about it in these articles.
Recommended Books for Children Adopted from Vietnam
Reviews of books for Vietnam adoptive families.