Suggestions for Celebrating Tet with Kids
By Cindy Roberts
Ideas for Tet activities and crafts for children.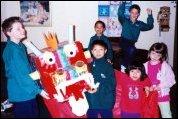 We have thrown two Lunar New Year parties at our home for our adoption group, a mix of international kids. On the invitation, I asked that everyone coming wear something from their child's birth country. Most of the kids showed up in their birth countries formal dress wear. The children were all so beautiful. Also on the invitation, the party was pot luck, so I asked people to bring dishes from their child's birth country. The food was great!
Activities for the kids included coloring pages of the zodiac animals. I found pictures of the zodiac animals on "Print Shop" and "Hallmark" art programs, then I traced the outline of the drawing with black permanent marker onto paper and made photo copies for the kids to color. This was all in the dinning room with washable markers only.
Also in the family room, I played travel videos on the TV from China, Vietnam, and Korea and I left books out on the coffee table about those countries. In the living room, I put out adoption books and magazines on that coffee table.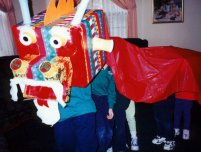 When it got dark, we had our own little dragon parade in the back yard. I lined all the kids up and gave them party blowers. The oldest kids were the dragon. Then they marched all over the back yard. We had two metal buckets turned upside down as drums, and a gong. It was very loud! I let this noise continue for 30 min., and by that time everyone got to be apart of the dragon. Then I stopped the noise. (I warned the neighbors ahead of time this would only be for 30 min. and invited them to come watch the parade.)
The dragon for the parade was very simple to make. I used one large card board box. The box was wraped in colorful red and yellow wrapping paper. We used colored cups for the mouth, ears, horns and eyes. The tail was two cheap red plastic table cloths attached to the back of the box with staples. It will hold about 15 kids under it. (Photo's and instructions for Tet dragon.)
During the party I played Asian music. When people left, I handed out red envelopes with gold chocolate coins in them.

This year for the art, besides simple coloring, the kids can make dragon puppets that look like "Mushu" from the movie "Mulan." It is fashioned after the dragon art project at Vietnamese Culture Camp in Colorado. When you hold the cup in your hand and walk the tail flies like a kits, very cool! (Photo's and instructions for Cindy's "Musha' Dragon Puppets.)