Vietnam Flag - A Beaded Craft for Children
This is a fun Vietnamese culture project for children - create your own flag in beads. The materials and directions for making a small beaded wall hanging of the Vietnamese flag are listed here, with a picture of the finished craft project.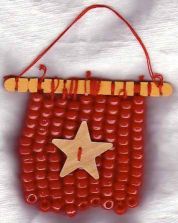 Materials:
108 red beads (size 6x9mm)
2 ½" wooden or 3" yellow foam star
One Snap-Apart pop cycle stick
10 red strings (12" long)
Directions:
1. There are nine rows of red beads. Do one strand at a time. Each strand has nine beads. Put one bead on a single string and then fold the string in half. Add the other eight beads to the double stranded string. Tie the finished row of beads to the third notch on the stick.
2. Do rows 2,3,and 4 the same way as the first row tying each strand to a notch.
3. Row 5 has a star on it. Add 5 beads to the string. Then thread the star on. Now add 6 more beads. Tie this strand to the middle of the stick.
4. Finish rows 6 through 9 and tie off. A drop of glue will secure the knots. Trim excess string.
5. Tie a string on the end notches to create a hanger.