Packing for Adoption Travel to Vietnam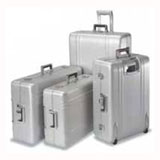 Wow, the time has finally come for you to begin final preparations for your Vietnam adoption trip. At this point you should have all your shots, your passport and your adoption paperwork complete. But what to bring?
This section on packing for your adoption trip to Vietnam provides 1) basic packing guidelines, 2) packing tips and 3) sample packing lists for different circumstances.
Be sure to read books and movies on Vietnam and Vietnam travel.
Packing Guidelines for Vietnam Travel
Guidelines for Vietnam Travel Packing
Each parent-to-be will have slightly different personal and circumstantial needs when traveling to bring home their child, but there are a few packing guidelines that every traveler will want to consider. (Allison Martin)
Medical and Health Preparations and Packing Recommendations for Your International Adoption Trip
Which medical specialists should you consult with prior to your international adoption trip? Suggested travel health preparations, plus recommendations for health supplies and medications to pack for you and your baby. (Martha Henry and Daniel Pollack)
Packing Tips for Vietnam Travel
Luggage Limits and Packing for Vietnam Travel
Luggage restrictions and packing suggestions for traveling to Vietnam. (Lotus Travel)
Vietnam Trip Advice (Margie Hershey)
Tips for Traveling with a Two Year Old Child (Therese Bartlett)
What NOT to Pack! (Caroline Foty)
Packing Tips for Adopting A Baby in Vietnam (Barbara Walsh)
Example Packing Lists
Here are examples of packing lists for different times of the year (spring, fall, etc.), different locations (Hanoi, HCMC) and different age children. These lists provide a great starting point in putting together your personal packing list.
Lori Fleener's Packing List
(HCMC, 2003)
Dana's Packing List
(8 1/2 month old, Nam Dinh, February 2000)
Earlier Packing Lists for a variety of seasons, age of children and locations in Vietnam.
Although a few of the suggestions in these lists are personal choice or are dated, this section provides a nice assortment of items for many different travel situations.
Liz Fleming's Packing List
(2 children: 11 month old and 6 month old, December)
Margaret Week's Detailed Packing List
(Annotated list, with lots of advice, 3 month old, November/December)
The Senderovitzs' Packing List & Suggestions
(Hoa Binh and Hanoi, October)
Dana's Packing List (1st adoption)
(7 month old, Soc Trang, August)
Jane Chin's Travel Recommendations and Packing Check List
(Ho Chi Minh City and Nha Trang, March)
Beverly Roeder's Medical and Packing Recommendations
(Lots of recommendations and discussion, Phu Tho (north Vietnam), June/July)
The Peters' Packing Suggestions
(What was useful and what wasn't, 4 months old, May)
The Dalsemers' Packing List
(17 month old, southern Vietnam, May-June)
The Wards' Packing List
(HCMC and Nha Trang, March)

Back to: Vietnam Travel